A new analysis reveals a serious funding gap in the financial ecosystem. It calls for cooperation to secure sustainable solutions for developing countries. Without better coherence in the public supportsystem, we won't be able to attract private capital. We then risk to miss growth and jobs in both Denmark and in developing countries.
With our great knowledge and advanced technology, Danish business, together with universities and NGO's, will be able to create amazing sustainable products.
That is for example, C.F Nielsen's bio briquettes, that is made by waste from farming. Biofuel from MASH Energy, made from discarded cashew nut shells. And the award-winning SolarSack, that by the rays of the sun is able to turn river water into clean drinking water in just a few hours. This is just three good examples of Danish advanced technology, that creates jobs and growth in Denmark and in Africa. And at the same time acceding the serious challenges in developing countries and minimizing deforestation and the emission of co2.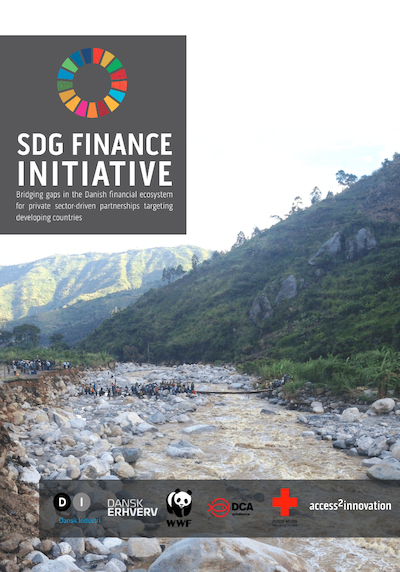 A new analysis, made by Access2innovation in collaboration with Danish Industry, The Danish Champer of Commerce, WWF Denmark, DanChurchAid, and Danish Red Cross, reveals the existence of a serious funding gap. The gap exists in the access to funding for new Danish sustainable solutions for the global market.
This gap prevents private investors from entering with private capital for scaling good sustainable business. Despite political world-goal ambitions, Denmark thus risks missing out on a lush undergrowth of new green ideas and projects.
We prevent the attraction of private capital, that would be willing to solve climate challenges and create a sustainable future.
The support is missing in the first difficult innovative years. This is where the business develops new technology, get help from the right researchers and in cooperation with end users develops solutions for a potential market of 60 billion USD. The current, early options for support are not coherent. And unfortunately, small adjustments to existing programmes do not solve the fundamental problem. That the financial foundation for tomorrow's new innovative climate solutions is lacking.
It is a paradoxical situation. Both private investors from Keystones, COOP's crowdfunding platform and IFU are on the verge of investing in Danish companies. Companies that, in collaboration with NGO's and researches, can provide in-demand climate solutions.
Fortunately, it will not cost much to fundamentally fix the existing system. But it requires a political investment, will and close dialogue with business, investors NGO's and research institutions to build bridges and establish the financial basis for Denmark to become a green superpower.
Green superpower
'Denmark must once again be a green superpower'. That was the ambitious argument, when the government and the support parties prior to Christmas, allocated 25 billion DKK in the annual budget to a Green Future Fund. The money should not come straight out of the pocket of the state. They are marketed as a loss guarantee on already existing schemes that invest in known proven technologies and business concepts.
The question is, whether the government will manage to put the money in play? While all the world leaders and experts work on a way out of the corona crisis and demand the new sustainable solutions for tomorrow, the Danish support billions is targeting mature projects, that are already ready to enter the market. It is a good thing that these projects gain support. But fact is, that there has never been so many private investment billions to finance solutions. Finance that is already developed and market ready.
If we do not support the new budding ideas and business concepts, it could, in the worst case, mean that the government and the conciliation circle end up not being able to do anything with the funds set aside for the sustainable solutions. We risk this because the financial ecosystem in the area does not yet exist.
Need for sustainable talent development
If you want to be a superpower, you have to play in the Superliga. And if Denmark as a small country strive to be in the worlds Superliga of green sustainable solutions and investments, we have to secure our own talent school and green solutions. We have the talents. Danish companies already put a lot of energy in developing new solutions. On their own or in partnerships with NGO's and universities. But they need the platform, that will give them access to funding, sparring and network with Danish and international partners. In other words: Smart Money,
Access2innovation is the Danish platform for innovative, sustainable, commercial solutions for the African emerging markets. Since 2007 we have created over 80 partnerships between business, NGO's, investors, knowledge institutions and government by offering network funding and expertise in innovation business developing in Denmark and Africa. We have shown that for each public crown invested in the early development, Danish companies and investors have contributed with 4 DKK. This has resulted in new products, jobs and growth. And at the same time shown that early public funding can gear private sustainable investments.
That is why we call on the government and support parties, when they in the upcoming months will decide on how they will implement the 25 billion DKK in the Green Future Fund, will use our experience as a template to secure a stabile investment system for sustainable Danish solutions for the global growth markets. This will ensure that the companies are supported with not only funding, but also in-demand expertise and network to realize the opportunities in collaboration with end users and producers in south.
Together we will create a sustainable future
Through the corona crisis we have shown, how close cooperation between public sector, business, and civil society can deal with massive challenges in a fast and efficient manner.
We need to take into consideration these good experiences in the development of a coherent system, that will build the bridges between the early public capital and private investments. In this way we create a good framework for the sustainable solutions of tomorrow.
In collaboration we can – in line with recent posts from i.e. Danish Industry, DanChurchAid, Care and more – support sustainable growth, the creation of jobs and innovative market based solutions and ensure that the companies investments in the development goals and climate make a real difference. For the world's poorest too. Access2innovation and the partner group behind this analysis are ready to help. We want to ensure a really green future for the 25 billion DKK. And at the same time create green growth in both Denmark and in developing countries. Green growth, where each workplace makes the population more self-sufficient and society robust to meet the coming crisis.