Business & development in Africa: Free virtual A2i Talks 
Watch our free virtual A2i-Talks about business and development in Africa
Get fresh information about innovation, business, development, financing, and the latest from our partners in Africa in our monthly A2i Talk. You can see most of the former A2i Talks under here. 
See the program for future A2i Talks here.
Available A2i Talks on video:
Scroll down to see more about each Talk.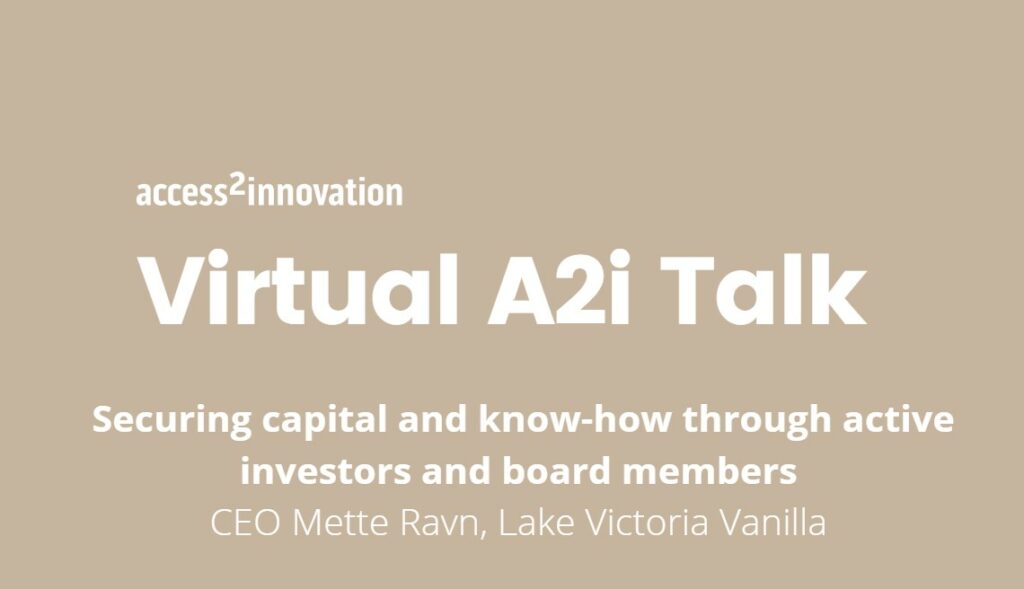 In this A2i-talk, CEO and founder of Lake Victoria Vanilla in Tanzania, Mette Ravn, takes us through her journey of securing investors and competent board members for her company. She  talks about her approach and key considerations in attracting investors and board members that not only contribute to capital, but also adds valuable business insights to the development of the company. All this in the context of developing a sustainable vanilla farm in rural Tanzania.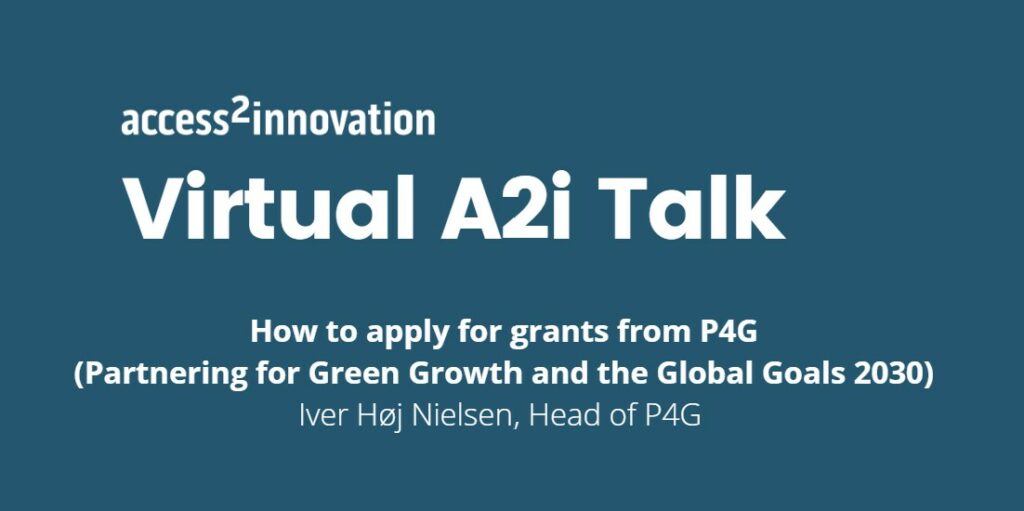 Tips on how to apply for grants from Partnering for Green Growth and the Global Goals 2030 – or in short P4G. P4G is supporting sustainable partnerships in developing countries such as South Africa, Kenya and Ethiopia aiming at preparing early-stage climate entrepreneurs to become investment ready. P4G was established in 2018 with Denmark as the leading founder and has since supported 75 partnerships. The focus areas are energy, water, and food and the program supports partnerships with existing locally established civil society organizations and companies. The business models must have the potential to attract external investors within a short timeframe.
In this A2I Talk, Iver Høj Nielsen, Head of P4G Activities at State of Green, the national Danish P4G Platform, talks about the P4G program, the partnership approach and how Danish knowhow and technology can help the green growth ambitions in the African partner countries. And not least about the ongoing 2023 Call for Partnerships which will be open from 17 July until 8 September 2023
Sustainability Frameworks for the African Agriculture and Forestry Sector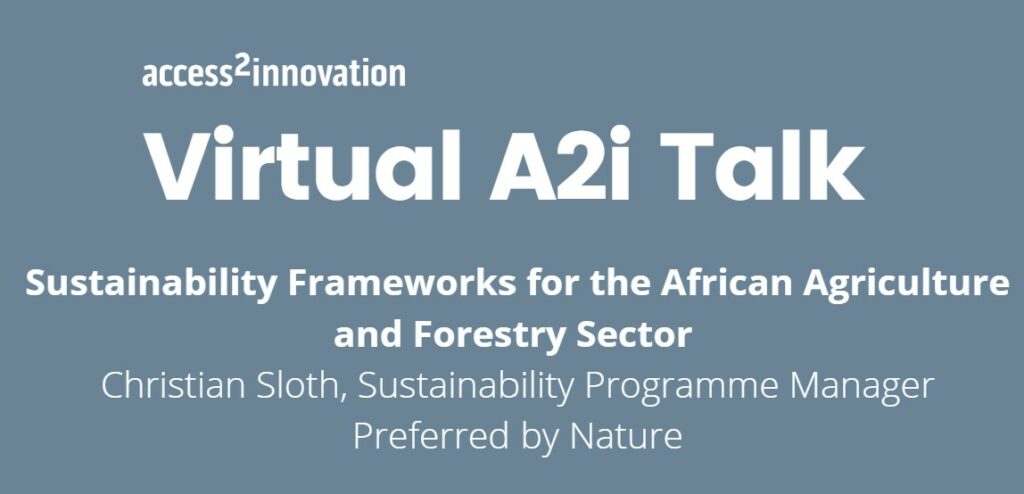 In this A2i-talk, Sustainability Program Manager at Preferred by Nature, Christian Sloth will take you through some of the frameworks that enable your company or organization to work more effectively with sustainability measures.
Christian has played a key role in developing several such frameworks and will share his experience on the prospects and challenges when these tools are implemented in real life situations. He will outline how the frameworks can benefit your business and share experiences from more than a decade of having worked with the forestry and agriculture sector in many parts of the world.
Innovation into the East African Health Sectors
A2i Talk by Dr. Ian Clarke (Clarke Group)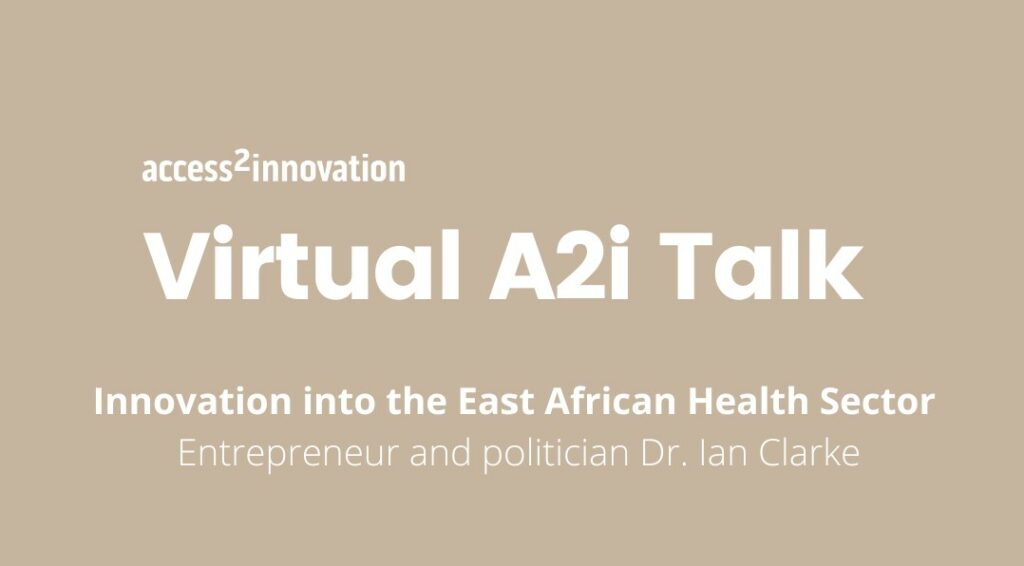 In this A2i-talk, entrepreneur and politician Dr. Ian Clarke from Clarke Group talks about the challenges and opportunities within the health sector in Uganda and East Africa in general. Ian shares his experiences from various engagements, among others, as the founder of the Kiwoko Hospital, the International Hospital Kampala, Clarke International University, Clarke Farms and as a member of The East African Healthcare Federation. Ian highlights how innovation occurs in the health sector and outline some of the opportunities that might exist for Danish companies.
A2i Talk April 2023: Access to finance in the agriculture sector for rural women by Delia Dean, World Bank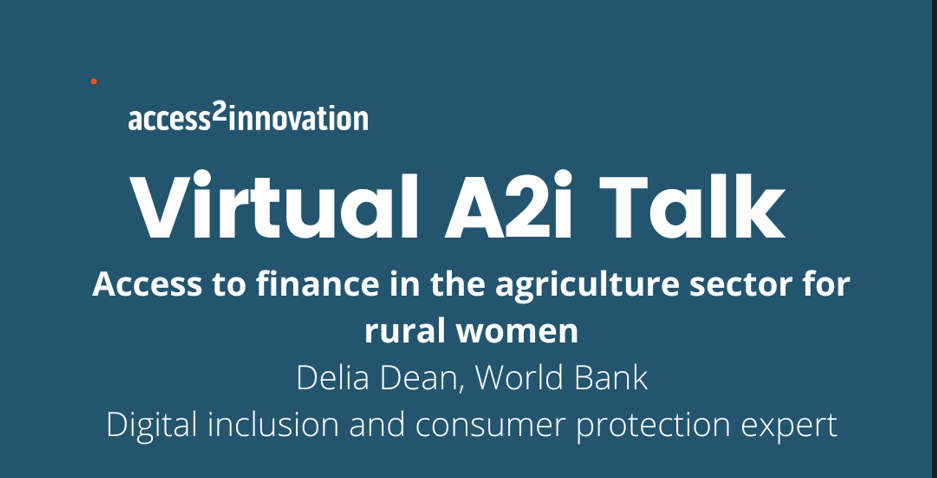 Digital inclusion and consumer expert in the World Bank, Delia Dean, speaks about the access to finance and market challenges for women in loose value chains, particularly horticulture. There is potential for women to have more agency over incomes in non-male dominated cash crop value chains, however, traditional financing mechanisms available in the markets are not suitable for female smallholder farmers.
About Delia Dean
Delia Dean brings more than 10 years of experience on issues of women's economic empowerment where she provides intellectual leadership to the technical work on gender focusing on generating evidence, data and information on gender, technology and agriculture; strengthening capacities for design and implementation of gender-responsive policies and programs; providing technical support to increase uptake of knowledge, technologies and good practices for promoting gender equality and rural women's economic empowerment. Working with the UN, World Bank and National Governments, she has supported the design and implementation of programs focusing on expanding financial inclusion and participation of MSMEs, smallholder farmers, refugees and women into the digital economy in Uganda, Tanzania, Ghana, Rwanda, Papua New Guinea, Malaysia and Fiji. Delia has a particular strength in private sector engagement and collaboration to support and drive development and humanitarian innovations for sustainability. Her recent efforts with the World Bank are centered on digitizing social protection systems and payments to accelerate gainful inclusion of vulnerable households into market systems.
Business opportunities for Danish renewable energy in Africa?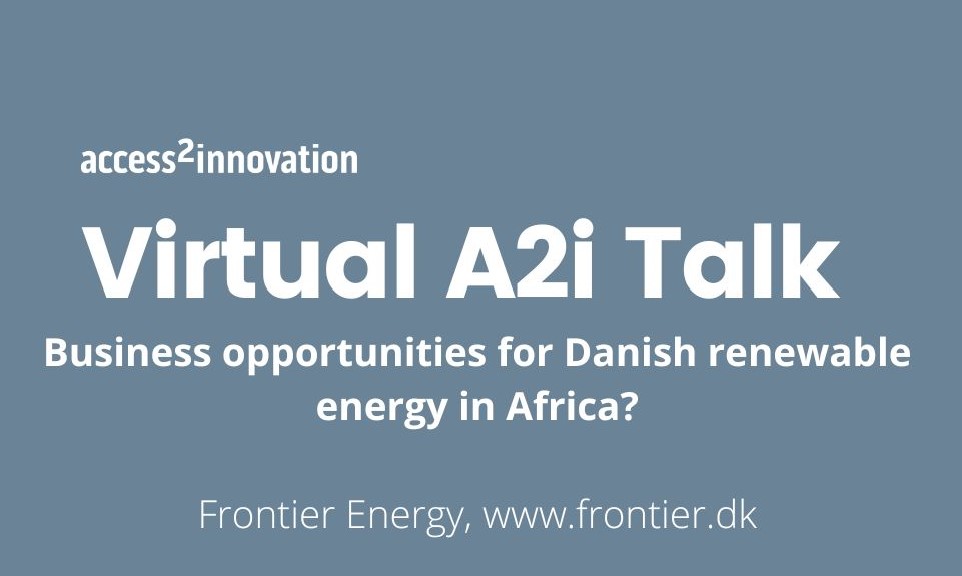 In this A2i talk, Lars Tejlgaard, investment director, partner and co-founder from Frontier Energy, a leading investor in the African renewable energy market, talks about the company's experiences with renewable energy projects in Africa. Get insights in the sector and in the future energy supply in the area – for example grid vs. off-grid energy supply. This also includes the cooperation with public authorities.
About Frontier Energy:
With more than 1,100 MW of renewable energy in development, construction and operation, Frontier Energy is a leading investor in the African renewable energy market. Frontier Energy has a hands-on and integrated approach to investing in the development, construction and operation of renewable energy projects and are developing, constructing and operating more than 60 renewable energy projects in Africa within hydro, geothermal, wind and solar PV with project costs of more than USD 2.5 billion. Frontier Energy engages in both execution and financing of project development and has developed many projects from early development to implementation involving. Read more at https://frontier.dk/.
Production and market penetration in Africa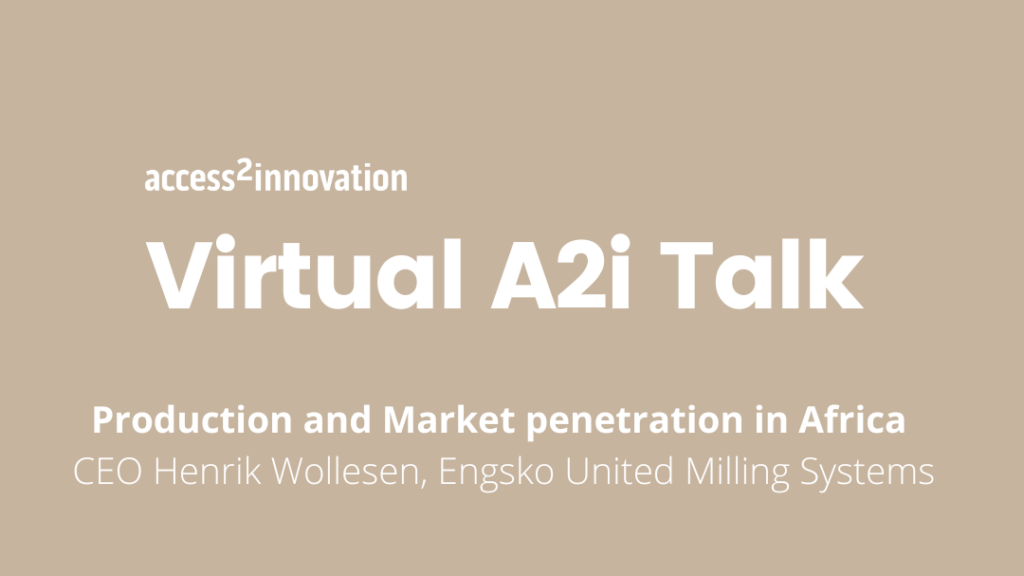 In this A2i-talk, the CEO of Engsko United Milling System, Henrik Wollesen, talks about the prospects and challenges in penetrating African markets. He shares his experience from Ethiopia and South Africa, where Engsko currently has production facilities as well as recent insights from a DMDP project, that Engsko is currently part of in Uganda. You get a good insight on what it requires to run production facilities in Africa and how best to reach these difficult markets.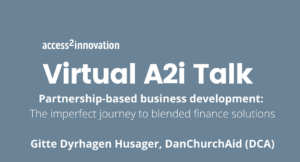 DanChurchAid's head of private sector engagement, Gitte Dyrhagen Husager, tells about the learnings that DCA has made over the last many years when investing on the operationalization of partnership-driven business development in poor and fragile countries. She shares some critical reflections on the journey, that DCA has been on for the last five years, when seeking to combine a civil society and business mind-set to develop innovative partnership models that are socially, environmentally, and financially sustainable. A particular focus will be on the emerging field of developing impact business and blended finance solutions at the core of all activities.
Here, there is a long way to turn words into action by leveraging private capital into impact-driven solutions – but also an emerging field of good practices and networks to tap into and learn from. Therefore, join this A2i-talk to get good insights into how DCA is trying to navigate this "imperfect journey" by challenging the silos between the development, business and investment community, and learn about the added value that NGOs can play as partners in the business development and financing space.
Combining aid and trade in Ugandan agriculture – exploring synergies between Danish development cooperation and Danish businesses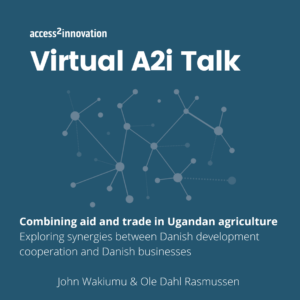 In this A2i-Talk, Ole Dahl Rasmussen from the Danish Embassy in Uganda and John Wakiumu, CEO of obi Development Ltd, will talk about the prospects of Uganda's agricultural sector. They will highlight the possibilities for combining development cooperation and business development in this fertile country, with examples of current development programs and the involvement of Danish businesses. We will also hear about current and future aBi Development activities, potentially supporting Danish companies wishing to enter the agribusiness sector in Uganda.
Leasing models for green solutions in Africa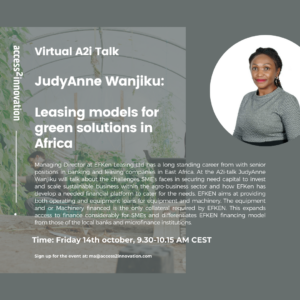 At the October 2022 A2i-talk, JudyAnne Wanjiku tells about the challenges SMEs face in securing need capital to invest and scale sustainable business within the agro-business sector and how EFKen has developed a needed financial platform to cater to the needs. JudyAnne Wanjiku, Managing Director at EFKen Leasing Ltd has a long-standing career with senior positions in banking and leasing companies in East Africa.
EFKen aims at providing both Operating and Equipment loans for equipment and machinery. The equipment and or Machinery financed is the only collateral required by EFKen. This expands access to finance considerably for SMEs and differentiates EFKen financing model from those of the local banks and microfinance institutions.
Key focus areas when developing early-stage companies in an East African context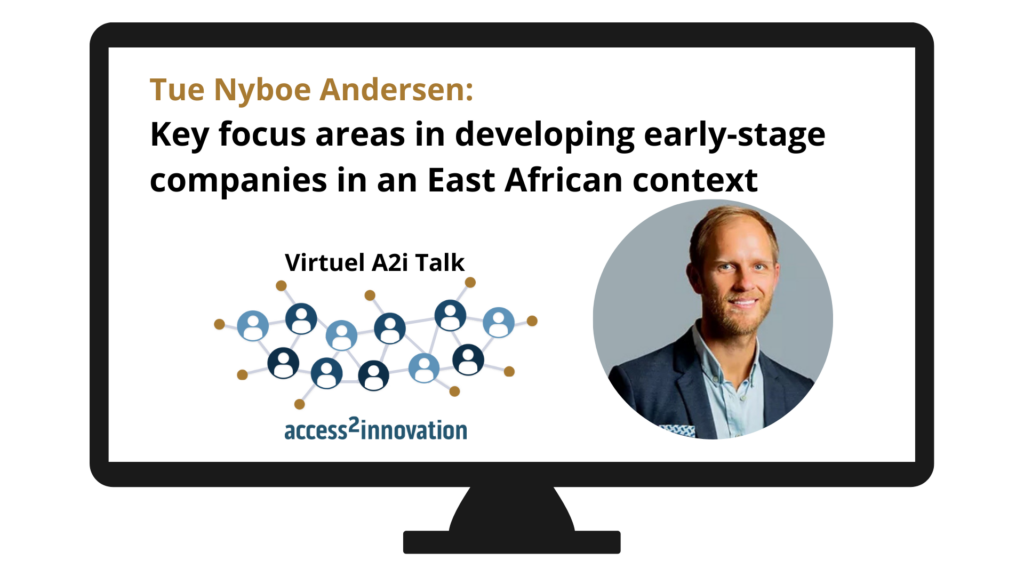 In this A2i-talk Tue Nyboe Andersen, will share his decade-long experience with developing SMEs in an East-Africa context. As co-founder and Managing Director of Kukula, he is engaged in the operational activities of many companies in their portfolio.
Tue will share doe's and don'ts, when you develop your early-stage company and focus on scalability and human resources.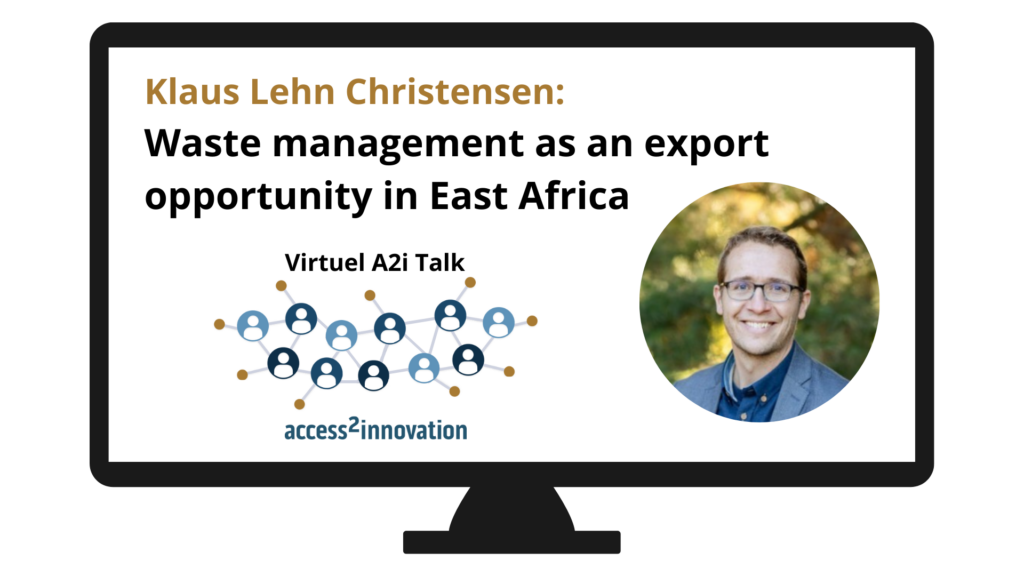 Meet Klaus Lehn Christensen, Regional Manager East Africa at Dansk Industri (Confederation of Danish Industry).
With Denmark's consistent focus on a circular economy, Danish impact companies are in a great position to seize market opportunities within waste management: Apart from hardware technologies to treat waste, a whole infrastructure has to be built for the digital side for governing waste management. Finally, innovation and know-how are needed around design solutions as new secondary markets have to be established for recycled materials. Waste management is the talk of the town in Kenya, Uganda, and Tanzania.
Five years ago, Extended Producer Responsibility as a model for waste management was barely on the radar in East Africa. Fast forward, through the support of the Danida-funded programs, we saw the launch of Kenya's Producer Responsibility Organization, KEPRO, as an independent body to handle plastic waste management and instill a secondary market for recycled plastic products. In a couple of months, Kenyan Parliament is set to pass a new waste bill that will introduce 4 more Producer Responsibility Organizations to govern waste streams such as E-waste, automotive, and hazardous waste. Meanwhile, similar initiatives are now being introduced in the neighboring countries of Uganda and Kenya.
Link to the video, mentioned in the start.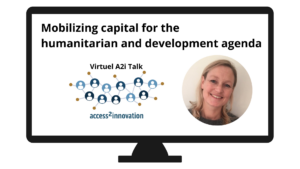 Lisbeth Zacho is the founder of Nordic Impact Funds and an advisor in innovative finance solutions with the Red Cross. She will in this talk present different blended finance structures for mobilizing investment capital for the humanitarian and development agenda, including catastrophe bonds, insurance solutions, social impact bonds and different impact investment structures. She will also highlight a couple of specific investments in East Africa and discuss how Danish companies and organizations can add value.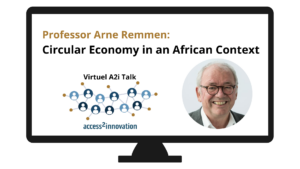 Professor Arne Remmen from Aalborg University takes us through the evolution on how companies and societies have worked with circular economy. He will highlight the importance of african businesses to tap into the principles of circular economy – what it means and how this can be done in partnerships between companies, universities and civil society organizations.
The talk is in English, only the first minute is in Danish.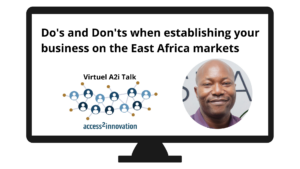 Tom Apina is the CEO of SustaiNet – a business support facility operating from Kenya. For many years he has supported SMEs in developing their businesses to successfully enter markets in East-Africa. In this A2i Talk he will share his experience on how to approach the markets incl. how to deal with various types of compliance issues.
Theme: Impact Investment (speech in Danish, slides in English)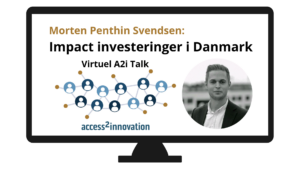 Impact investeringer har igennem de seneste år fået en voksende opmærksomhed. Men hvad vil det sige at investere for et impact, og hvordan kan virksomheder og samarbejdspartnere tiltrække impact finansiering? Hvad er status quo på impact investeringsmarkedet i Danmark, og hvordan bidrager danske investorer til en bedre verden?
Access2innovation, WWF Danmark, Dansk Røde Kors og Aalborg Universitet har igennem de sidste år rettet fokus på de nye muligheder og understøttet, at ErhvervsPhD'er, Morten Penthin Svendsen har fået afdækket mulighederne i impact investeringer og drivers bag det at investere med et med et bæredygtigt formål
I denne A2i Talk vil Morten præsentere de foreløbige resultater fra  PhD projektet "With Hearts and Minds". Morten har interviewet over 75 danske investorer, NGO'er og virksomheder for bedre at forstå impact investeringsmarkedet i Danmark, og afdækket en række huller i det danske finansieringssystem, som hindrer at privat impact finansiering kan nå potentialet.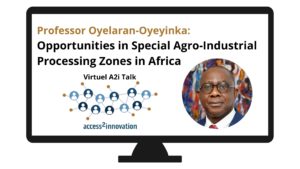 Wanted: Solutions within agro-business, water/sanitation and renewable energy
By 2050, the world's food production must increase by 70% in order to meet the global demands. The African continent is center stage in meeting the demand not only for the regional rising population, but also in taking the opportunity for exporting sustainable fresh produce and products to the growing demands.
In order to cater for this development, the African Development Bank (ADB) has initiated "Special Agro-Industrial Processing Zones (SAPZ) in Africa". At the upcoming A2i Talk, Professor Oyelaran-Oyeyinka from ADB will introduce the opportunities to engage with the SAPZ, along with market and innovation demands identified by ADB in East Africa.
Here we will set the stage for your opportunities to engage with the African Development Banks Special Agro-Industrial Processing Zones (SAPZ), where new solutions within agro-business, water/sanitation and renewable energy are required.
Theme: Your opportunities in the World Food Program's Innovation Hub
Meet Jeremie Pige, Head of World Food Program's Innovation hub for Eastern Africa. Jeremie Pige tells about the local demands and opportunities for engaging with the hub at the A2i-Talkfrom October 21.
In December 2020 World Food program launched the Regional Innovation hub (IGNITE). This main mission is to leverage public and private partners, provide deep field access and expertise to develop, nurture and scale sustainable innovations to increase food security in Eastern Africa. The aim is to cater to the transformative innovations that can create needed sustainable, profitable, and long-lasting business models.
At the A2i-Talk Jeremie Pige will focus on WFP's innovation approach, challenges in the East African context within the agro-sector, and opportunities for the private sector, NGOs, and researchers to engage in innovating the needed solutions.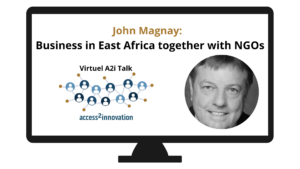 Theme: How to do business in East Africa together with NGOs? – meet expert John Magnay
Meet John Magnay, Access2innovation's trusted expert in building Danish businesses in East Africa in cooperation with NGOs and investors. He is our local expert in East Africa with companies in Uganda and a background in Opportunity International. John shares his knowledge and insights from many years experience. He reflects on how finance institutions as Opportunity Bank / Abi Trust can support Danish companies and NGOs targeting the agri-business sectors in East Africa. He wraps up with some good points on do's and don'ts when Danish innovation partnerships want to establish themselves in the East African agri-business sector.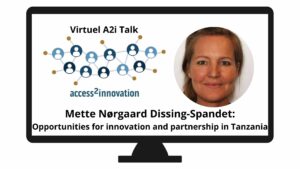 Theme: Opportunities for innovation and partnership in Tanzania
In this virtual A2i Talk, Ambassador Mette Nørgaard Dissing-Spandet gives a status on the political environment and market in Tanzania. She then focuses on your opportunities based on her experiences of supporting the commercial development of Danish sustainable technology in Africa. Finally, she gives three good pieces of advice to Danish companies that want to enter Tanzania's growing markets.
Speaker: Mette Nørgaard Dissing-Spandet, Danish Ambassador to Tanzania, Malawi, Mauritius and Zambia.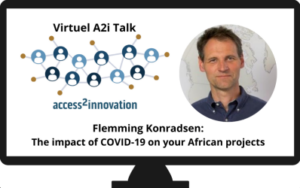 Theme:

What is the impact of Covid-19 on your African projects?
Speaker: Flemming Konradsen is Professor of Global Environmental Health and Head of the School of Global Health at the University of Copenhagen.

This Virtual A2i-Talk is about the developments, challenges and perspectives of Africa in relation to Covid-19.
Professor and head of the Department of Global Health at the University of Copenhagen, Flemming Konradsen, gives an overview of the pandemic's effect on Africa, and focuses on the needs and opportunities that open up to promote a sustainable future. Flemming Konradsen gives a presentation of 15-20 minutes and after that there is an opportunity for questions and for debate.
Flemming Konradsen has more than 20 years of experience in global health and has worked for international research institutions, NGOs and Danish universities. He is responsible for a number of programs aimed at strengthening research and teaching capacity in low- and middle-income countries.
Watch the virtual A2i Talk with Flemming Konradsen here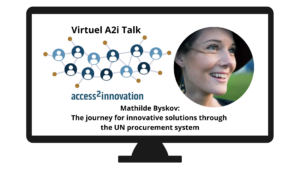 Theme: The journey for innovative solutions through the UN procurement system
Speaker: Mathilde Byskov, independent consultant and secretariat manager for TechVelopment Denmark..
The UN procured in 2019 for $ 19.9 billion. But it can be challenging for Danish SMEs to enter the UN system, even if they provide sustainable solutions that contribute to achieving the UN's World Goals.
Based on a solar cell lamp's journey out to the world's refugees, Mathilde Byskov share her insight into the UN as a global market. Mathilde's presentation is about business opportunities and business constraints within the UN system. This highlights new trends as well as differences in partnerships and procurement.
Mathilde Byskov advises daily impact companies that work in developing countries and cooperate with the UN and NGOs. For the last 6 years she has been working to bring innovative solutions into the UN system. For example, she has worked as a UN / NGO manager in the solar cell company BRIGHT Products, which became the largest supplier of solar cell lamps for UN relief.
Hear the A2i Talk with Mathilde Byskov here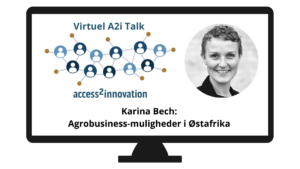 Theme: Business opportunities in the agro business sector in East Africa
Speaker: Karina Bech, Head of Trade and Business Development at the Danish Embassy in Kenya
With a loss of 40-50% in primary production and a growing demand for adapted technologies, the East African markets offer new opportunities for Danish companies that, in collaboration with end users and manufacturers, can develop the required solutions. Karina Bech briefly introduces the latest news from East Africa and concrete recommendations for how the Danish business community can get on the field. 
Watch the Virtual A2i Talk  with Karina Bech here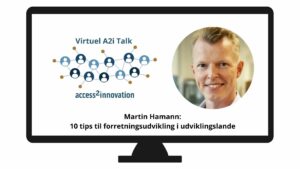 Theme: Get 10 tips for business development and strategic B2C marketing in developing countries
Speaker: Martin Hamann, previously operationally responsible for the World Bank Group's / IFC's Lighting Myanmar
Topic: Get 10 tips for business development and strategic B2C marketing in developing countries
Martin is previously operationally responsible for the World Bank Group's / IFC's Lighting Myanmar, a program for the industrial development of decentralized B2C energy solutions. He will inspire us based on his work in Myanmar as a leader in commercial growth companies, in the industrial development program and as a mentor for impact startups.
The World Bank Group / IFC's Lighting Myanmar is a donor-funded program to grow the private decentralized B2C solar energy sector in Myanmar. Martin has been responsible for the program's market development activities, including commercial consulting for private companies and the development of innovative partnerships across the ecosystem. He was also responsible for a nationwide consumer information and marketing campaign in cities and remote villages and helped design Myanmar's first subsidy program based on enterprise performance (RBF).
Hear the Virtual A2i Talk with Martin Hamann here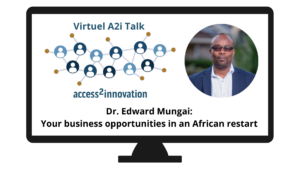 Theme: Your green business opportunities in East Africa
Speaker: Edward Mungai, CEO, Kenya Climate Innovation Center
In the very first edition, Dr. Edward Mungai a short presentation of the Kenya Climate Innovation center. The center supports the development, implementation and transfer of locally relevant climate technologies to the private sector. We also get a status of the political environment and market in East Africa with a focus on green transition and opportunities to link to East African companies and business hubs. Then it is possible to ask questions to Dr. Edward Mungai.
About Dr. Edward Mungai: CEO of Kenya Climate Innovation Center. With a previous role as investment manager at IFU, Dr. Edward Mungai a strong background in business consulting, entrepreneurship, sustainability and investment management.
Hear the Virtual A2i Talk with Edward Mungai here
Our network
"We want to weave our network even closer and create a virtual platform where we inspire each other. So Virtual A2i Talk is for all our members and partners, whether you represent a company, a research institution, an NGO, a funding partner or an authority. If we are to achieve the UN's ambitious world goals together, then it requires cross-disciplinary cooperation, knowledge sharing and access to a broad network. Only in this way do we create the sustainable business development of the future in developing countries," says CEO Jacob Ravn.