Congratulations to Kioo Water Re-fill Kiosks who has been chosen for the finals of SDG Tech Awards 2022!
Only five companies out of more than 300 nominated are chosen for the finals, which take place in Copenhagen December 7, 2022. Kioo Water Re-fill Kiosks are nominated in the category Water.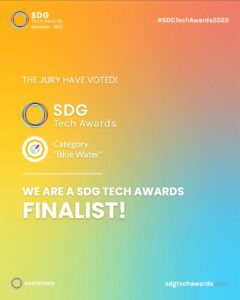 The founder of the company, Per Egede Nielsen, has invented a way of cleaning used water bottles, before filling them with clean water. This is done in so-called Water Re-fill Kiosks.
The price of cleaning and filling of your own bottle is the third of buying a new bottle of drinking water. The Kiosks will be put up for a start in East Africa at e.g. bus stations and universities.
You can pay per filling or for a longer period, e.g. for your children in school for half a year.
Read more about Kioo Water Re-fill Kiosks here (in Danish).