Find inspiration for developing business in Africa
Access2innovation inspires and helps our members building new partnerships and to create sustainable business on African emerging markets. Vi ensure ressources, expert knowledge and the enlightenment of current needs and demands – factors that will help you start and run business in Africa.
We organize pitchsessions, workshops, and conferences, that you are more than welcome to participate in.
Delegation trip to Africa with Access2innovation
Go with Access2innovation to Africa and meet all the right people to set up your business in the best way.  Contact hal@access2innovation.com for more info.

 Read more information about the trip here
Opportunities in special agro-industrial processing zones in Africa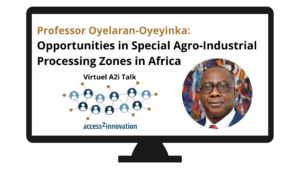 By 2050, the world's food production must increase by 70% in order to meet the global demands. The African continent is center stage in meeting the demand not only for the regional rising population, but also in taking the opportunity for exporting sustainable fresh produce and products to the growing demands.
In order to cater for this development, the African Development Bank (ADB) has initiated "Special Agro-Industrial Processing Zones (SAPZ) in Africa". At  the upcoming A2i-Talk, Professor Oyelaran-Oyeyinka from ADB will introduce the opportunities to engage with the SAPZ, along with market and innovation demands identified by ADB in East Africa.
A2i Talks take place the second Friday every month 09:30 – 10:15 at this link.
Please register to ca@access2innovation.com

.
Impact Investment in Denmark
Virtual A2i Talk on African matters. Free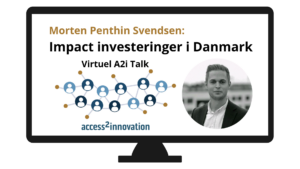 Access2innovation's PhD and expert, Morten Penthin Svendsen, tells about his research on Impact Investment in Denmark. The research shows a very big interest in the subject – but also a huge confusion about what Impact Investment means. The words are used in too many ways and this makes it hard to get real results.
Join us at Zoom Friday 14.01.22 9.30 – 10.15 CET. Please register to ca@access2innovation.com
Contact us for information about upcoming events
News from the Access2innovation network
What we do
Danish business community gain access to partnerships with NGO's, investors, knowledge institutions as well as opportunities for funding, business understandings and technical insights based on many years of experience with African emerging markets.
Since 2007 we have created over 70 partnerships between businesses, NGO's, investors, knowledge institutions and public authority by offering network, funding and expertise in innovation and business developing in Denmark and in Africa.