Find inspiration for developing business in Africa
Access2innovation inspire and help our members building new partnerships and to create sustainable business on african emerging markets. Vi ensure ressources, expert knowledge and the enlightenment of current needs and demands – Factors that will help you start and run business in Africa.
We organize pitchsessions, workshops, and conferencies, that you are more than welcome to participate in.
Impact of Covid-19 on your African projects
Welcome to Virtual A2i-Talk on the developments, challenges and perspectives of Africa in relation to Covid-19. Professor and head of the Department of Global Health at the University of Copenhagen, Flemming Konradsen, gives an overview of the pandemic's effect on Africa, and focuses on the needs and opportunities that open up to promote a sustainable future. Flemming Konradsen gives a presentation of 15-20 minutes and after that there is an opportunity for questions and for debate.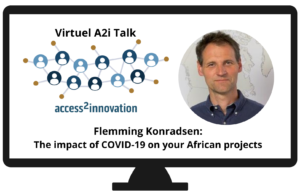 Flemming Konradsen is Professor of Global Environmental Health and Head of the School of Global Health at the University of Copenhagen. Has more than 20 years of experience in global health and has worked for international research institutions, NGOs and Danish universities. He is responsible for a number of programs aimed at strengthening research and teaching capacity in low- and middle-income countries.

The A2i-Talk is free and takes place May 21 at 9.30-10.15. Sign up to ma@access2innovation.com and you will receive a reminder on the day.
Virtual A2i Talk, June
More info to come.
UN, Copenhagen:
International Procurement Seminar
International Procurement Seminars, also known as Multi-Agency Business Seminars, are opportunities for UN Buyers and Vendors to meet in person. Several UN Agencies participate and deliver a brief presentation of their Agency.  
The business seminars also allow for one-to-one meetings between UN buyers and vendors.
For more info, contact Joanne Ganthier, 
joanne.ganthier@fcdo.gov.uk
FOLKEMØDET
See you at the sustainable festival Folkemødet at the Danish isle, Bornholm!
More info to come.
Delegation trip to Africa
Come with Access2innovation to Kenya and Tanzania and get insider knowledge of the growing markets by experts.
Contact us for information about upcoming events
News from the Access2innovation network
What we do
Danish business community gain access to partnerships with NGO's, investors, knowledge institutions as well as opportunities for funding, business understandings and technical insights based on many years of experience with African emerging markets.
Since 2007 we have created over 70 partnerships between businesses, NGO's, investors, knowledge institutions and public authority by offering network, funding and expertise in innovation and business developing in Denmark and in Africa.