Find inspiration for developing business in Africa
Access2innovation inspires and helps our members building new partnerships and to create sustainable business on African emerging markets. Vi ensure ressources, expert knowledge and the enlightenment of current needs and demands – factors that will help you start and run business in Africa.
We organize pitchsessions, workshops, and conferences, that you are more than welcome to participate in.
VIRTUAL A2i TALK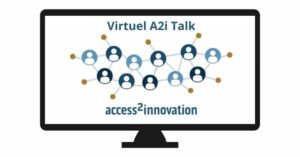 Subject: TBA
A2i Talks happen every second Friday 09:30 – 10:15 CEST in the month at this link. 
Free access. Please register to ma@access2innovation.com
BUSINESS MISSION TO ​RWANDA

Interested in doing business in Rwanda?  Sweden Africa Chamber (SAC) is organizing a business mission to Rwanda open for businesses from Nordic countries. Registration info here: INFO MEETINGS – Nordic Rwanda Connect The mission is planned for 26 – 29 September 2022.
The places are limited and they are currently filling up with companies form the other Nordic countries. Would be great to have DK companies participate.
There is no fee for participating, apart from cost for travel, hotel and food which are at own expense.
More info here: Business Mission – Nordic Rwanda Connect
Contact us for information about upcoming events
News from the Access2innovation network
What we do
Danish business community gain access to partnerships with NGO's, investors, knowledge institutions as well as opportunities for funding, business understandings and technical insights based on many years of experience with African emerging markets.
Since 2007 we have created over 70 partnerships between businesses, NGO's, investors, knowledge institutions and public authority by offering network, funding and expertise in innovation and business developing in Denmark and in Africa.