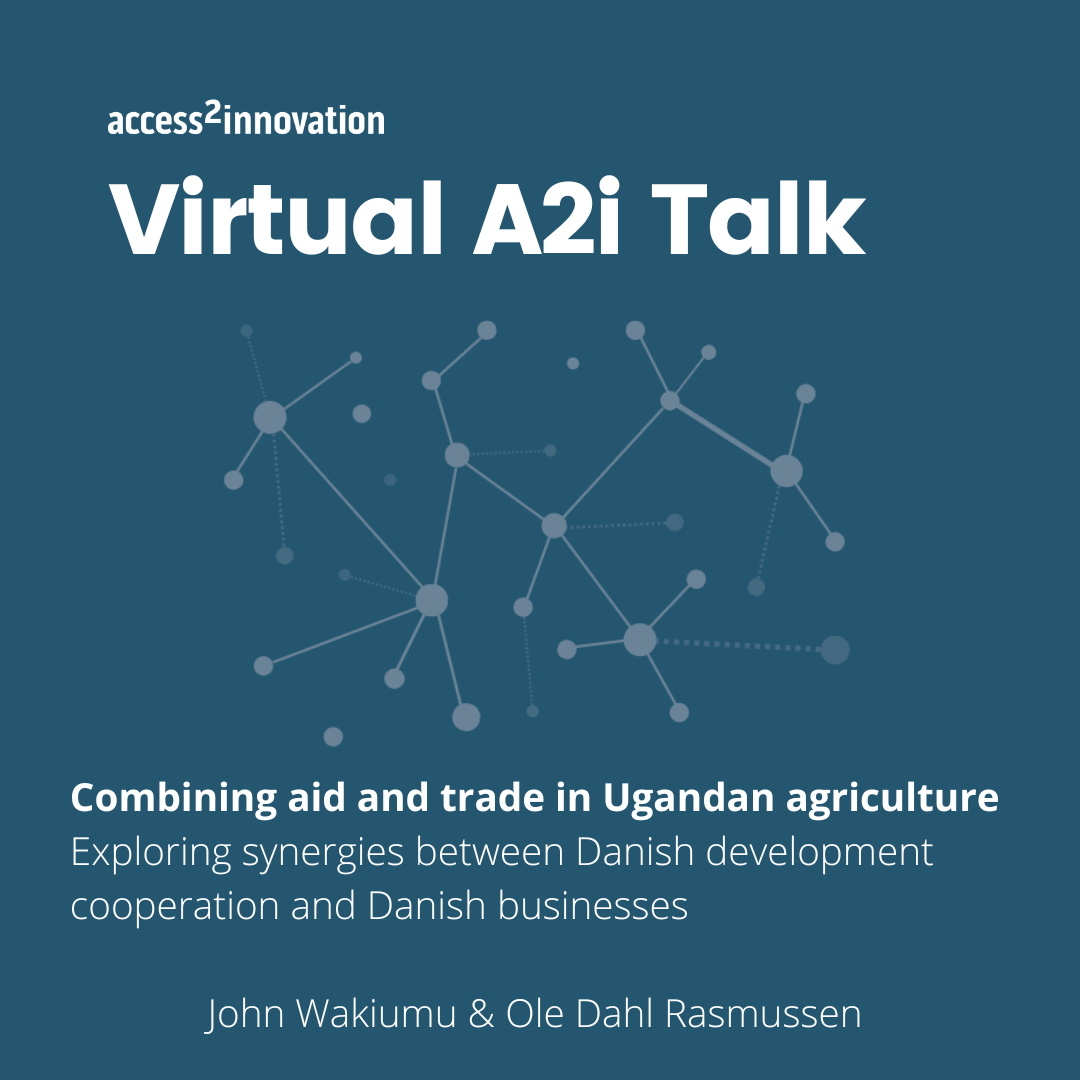 A2i Talk November 2022:
Combining aid and trade in Ugandan agriculture – exploring synergies between Danish development cooperation and Danish businesses
Uganda's agricultural sector is developing. A growing middle class, fertile land, and export markets in the region makes Ugandan agriculture relevant for Danish businesses. Whether it's processing equipment, water treatment or the import of quality coffee, there are opportunities and links. But Uganda is also a developing country where infrastructure, finance, and market size can be a challenge. Danish development cooperation has supported agriculture and agro-business development for 20 years. This creates opportunities for synergies with Danish businesses.
Agenda
The Danish Embassy's activities in Uganda: Current development programs and examples of DK business involvement.
Example of DK support: aBi Development now and in the future.
Discussion
About aBi: aBiD is a multidonor entity devoted to private sector agribusiness development with a commitment to economic, social and environmental sustainability. aBiD follows a long-term commitment by being both a catalyst in support of the Ugandan agricultural sector and a conduit through which development partners and investors can build the capacity of the agricultural sector. Denmark is a key contributor to aBiD.
John Wakiumu is the Chief Executive Officer of aBi Development Limited (aBiD). John has 20 years' experience from agricultural development and investment banking in Africa. He holds a Masters' Degree in Management from Yale School of Management.
Ole Dahl Rasmussen is team leader at team Green Economy at the Danish Embassy in Kampala. He has worked with agro-business and agricultural development in Africa for 15 years, including four years in Burkina Faso. He holds a Master in Political Science from the University of Copenhagen and a PhD in Economics from University of Southern Denmark.