Be part of our vision to create more socially and environmentally sustainable food systems by supporting entrepreneurs, engaged in the food industry in developing markets!
To achieve this, our Sustainable Food Hub will facilitate a network for members to stand together, learn from each other, cooperate, and
negotiate relevant deals as a unified and collaborating group.
Program for the day:
14:30-14:50: Quick presentation of participants and their business.
14:50-15:00: The vision and organization of Sustainable Food Hub.
15:00-15:45: Presentation of Hub activities and network groups.
15:45-16:15: Selecting anchor persons for the Hub activities.
16:15-16:30: The way forward…
Drinks and snacks will be served.
Time: Join us for the launch of the Sustainable Food Hub 13. June 14:30-16:30 PM.
Venue location:
Onboard the three-masted schooner LOA, Central Copenhagen by the waterfront. Below is a map showing the exact location of the ship Loa (in front of Amaliehaven) – the venue for the launch of the Sustainable Food Hub.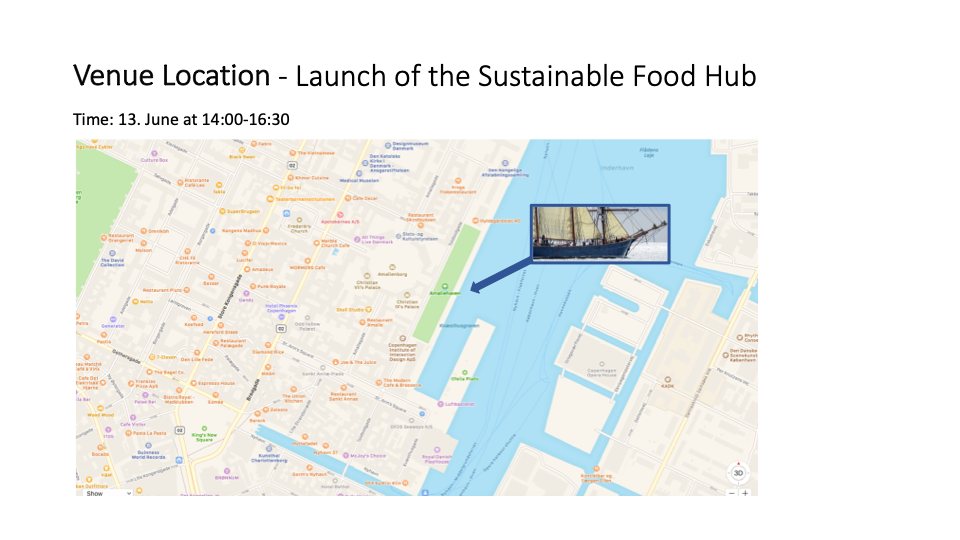 Please, contact Thomas Augustinus for your participation at ta@access2innovation or mobile: +45 20961460