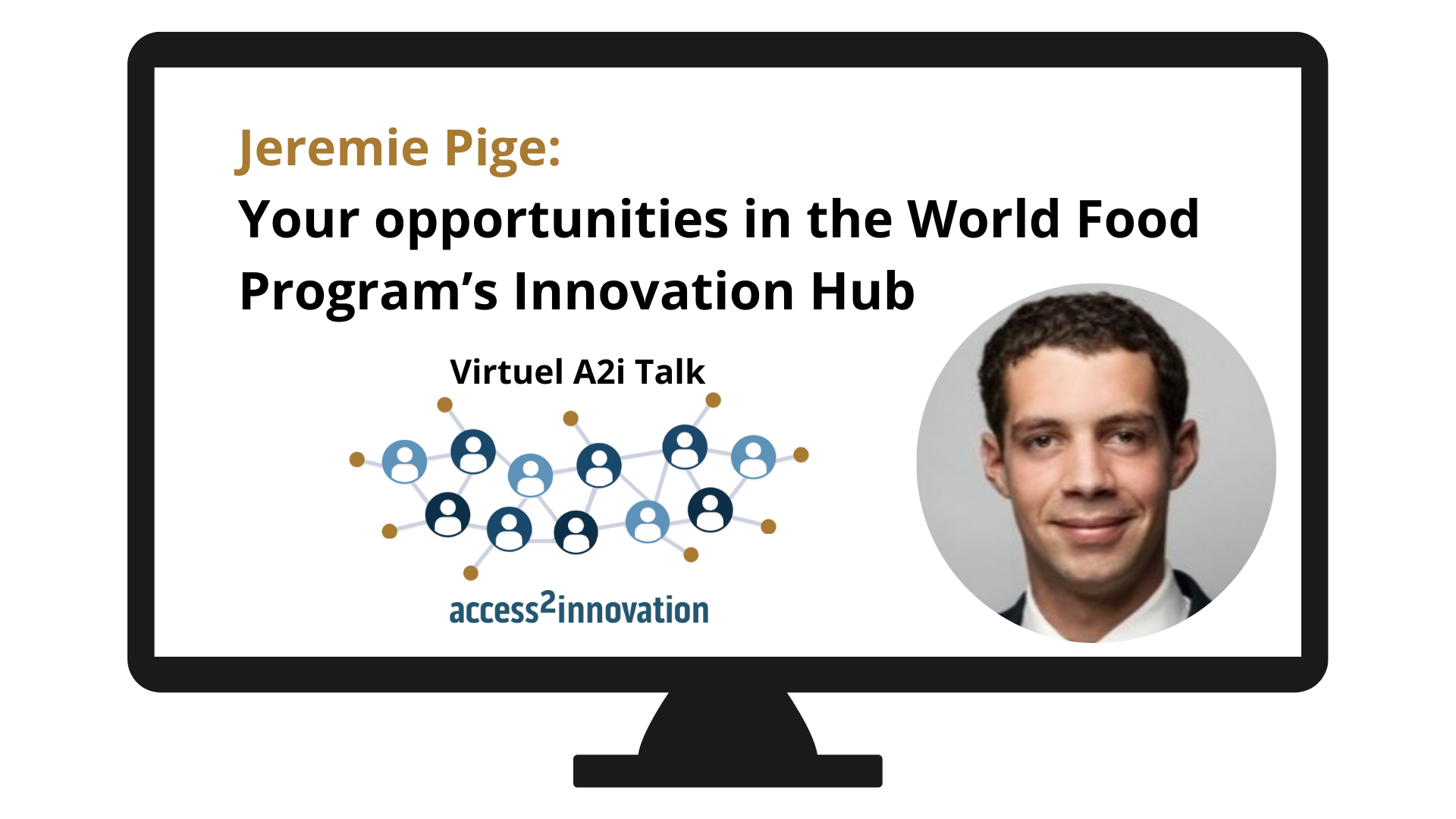 Your opportunities in the World Food Program's Innovation Hub
Meet Jeremie Pige, Head of World Food Program's Innovation hub for Eastern Africa. Jeremie Pige tells about about the local demands and opportunities for engaging with the hub at the upcoming a2i-Talk.
In December 2020 World Food program launched the Regional Innovation hub (IGNITE). This with the main mission is to leverage public and private partners, provide deep field access and expertise to develop, nurture and scale sustainable innovations to increase food security in Eastern Africa. The aim is to cater for the transformative innovations that can create needed sustainable, profitable and long-lasting business models.
At the A2i-Talk Jeremie Pige will focus on WFP's innovation approach, challenges in the East African context within the agro-sector, and opportunities for private sector, NGO's and researcher to engage in innovating the needed solutions.
Jeremie Pige  has worked with fast-growing start-ups, and as an adviser on Strategic and Business Developmen. He joined WFP Innovation in 2019. His job is to source, select & mentor forward-looking and impactful projects that have the potential to help us bridge the gap towards a world without hunger. In 2020, he joined the WFP Regional Bureau for Eastern Africa and launched a Regional Innovation Hub to support market-based approaches, start-ups & MSMEs that could strengthen food systems and sustainably lift people out of hunger. TThe Hub provides funding and technical assistance to its portfolio companies & projects.
The event is October 8th at 9.30 -10-15 CEST.
Please register at mmb@access2innovation.com.
Follow this link to join the Virtual A2i-talk.
Code: 123
For more about World Food Program Regional Innovation hub (IGNITE) see: https://innovation.wfp.org/eastern-africa