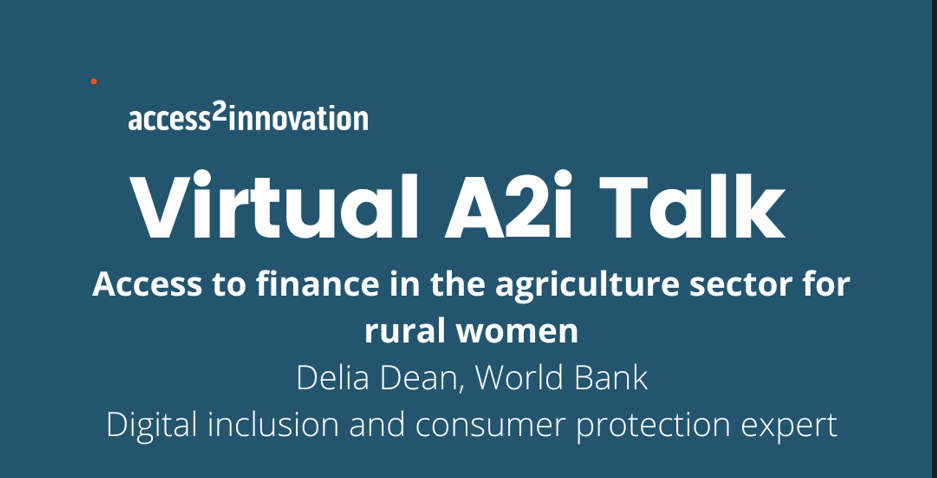 A2i Talk April 2023: Access to finance in the agriculture sector for rural women by Delia Dean, World Bank
Digital inclusion and consumer expert in the World Bank, Delia Dean, speaks about the access to finance and market challenges for  women in loose value chains, particularly horticulture. There is potential for women to have more agency over incomes in non-male dominated cash crop value chains, however, traditional financing mechanisms available in the markets are not suitable for  female smallholder farmers.
About Delia Dean
Delia Dean brings more than 10 years of experience on issues of women's economic empowerment where she provides intellectual leadership to the technical work on gender focusing on generating evidence, data and information on gender, technology and agriculture; strengthening capacities for design and implementation of gender-responsive policies and programs; providing  technical support to increase uptake of knowledge, technologies and good practices for promoting gender equality and rural women's economic empowerment. Working with the UN, World Bank and National Governments, she has supported the design and implementation of programs focusing on expanding financial inclusion and participation of MSMEs, smallholder farmers, refugees and women into the digital economy in Uganda, Tanzania, Ghana, Rwanda, Papua New Guinea, Malaysia and Fiji. Delia has a particular strength in private sector engagement and collaboration to support and drive development and humanitarian innovations for sustainability. Her recent efforts with the World Bank are centered on digitizing social protection systems and payments to accelerate gainful inclusion of vulnerable households into market systems.